How To Make Restaurant Ties Last Longer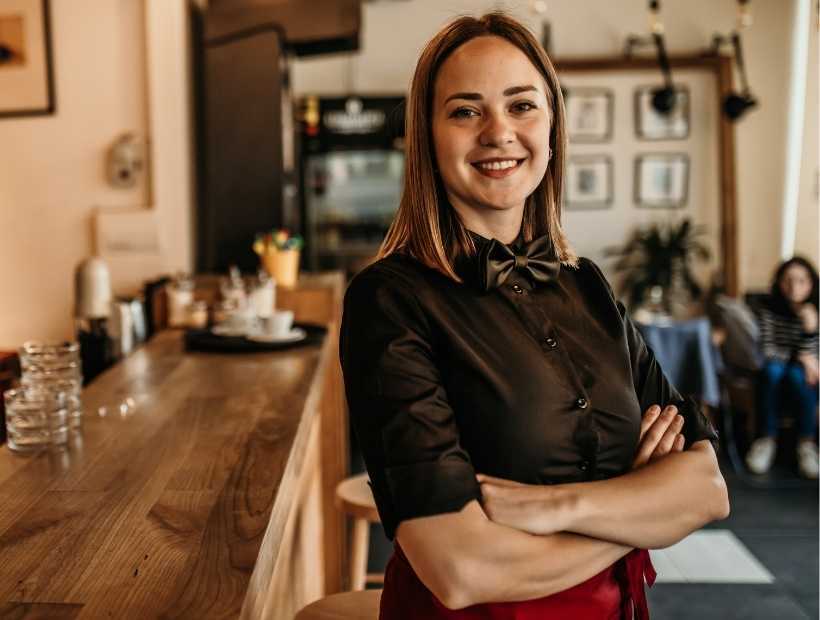 ---
Neckties look great on restaurant waitstaff, but they can get in the way, too. One wrong lean over a table and a tie tip can land on someone's plate—ruining a meal and the tie.
The easiest way to ensure a tie lasts the longest is to keep it out of the way. We've all seen servers tuck their tie into their waist or throw it over their shoulder. But there are ways to keep it entirely off the table (and those plates). Let's take a look at how to extend the life of restaurant ties.
Adding a tie bar to your staff uniform is the simplest way to ensure those ties stay close to the body and out of harm's way. Tie bars can be used on any tie that hangs, so regular ties and pre-tied ties. (Tie bars come in different widths to accommodate both skinny and standard width ties, depending on what your servers are wearing.) For proper use, make sure your waitstaff clasps the tie bar to both their shirt and the tie.

Tie bars keep a waiter's tie close to their body and off the table.
Some ties have a little known secret hidden in the tie tail: A button hole. These button holes allow the tie to be secured to a dress shirt. (As long as the tail is looped through the tie tag before it's buttoned up.) When a server leans over, the tie stays close to the body without the need for a tie bar.
Button holes are usually found on ties made specifically for uniforms. The finish is typically completely matte and the material, usually a polyester poplin, is slightly textured.
Some ties have button holes on the tie tail, like this one. When buttoned to the shirt, the tie stays close to the body.
Cover Up With Vests Or Aprons

Vests and full-length aprons are another way to extend the life of your restaurant ties. Both items cover up most of the tie, so stains are less likely. Servers often like wearing these items because...POCKETS. Many vests and aprons have added pockets for restaurant essentials like pens and straws.
The downfall of these items is that they to can get stained, too. So instead of replacing an inexpensive necktie, a more expensive vest or apron must be purchased again if those stains can't be removed.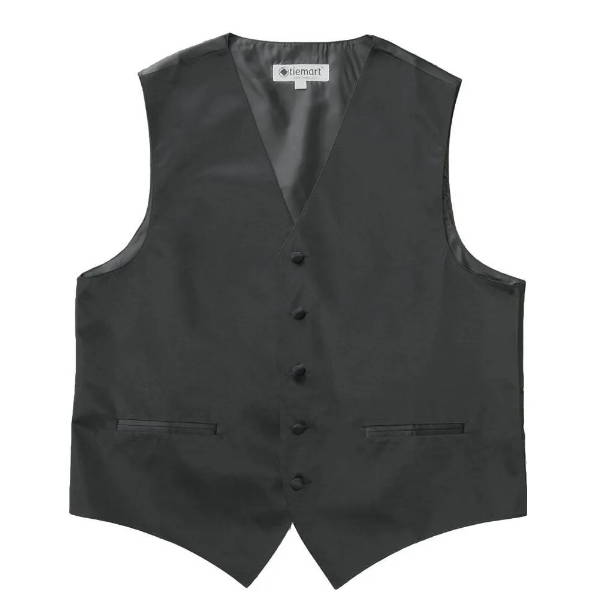 Vests are a great way to cover up and protect a tie, but can cost more to replace than the tie if stained.
Bow ties aren't for every restaurant, but they sure do stay cleaner than a necktie in the food service industry. With no fabric hanging, the biggest hazard of a bow tie in a restaurant is those servers' fingers as they adjust their bow. (It's a pesky habit of every bow tie wearer.) While reordering for new hires and the occasional lost bow tie will happen, restaurants that wear bow ties typically order less often than those who wear neckties.
Bow ties typically stay cleaner in restaurants because the don't hang dangerously near plates or the table like a necktie.
Spot Clean Or Hand Wash Ties

Believe it or not, some ties can be cleaned. First, check the tie tag for material. To be able to wash your tie, you're looking for polyester, polyester microfiber or polyester poplin. These materials usually can be washed. (We always recommend spot testing and/or washing one tie first before washing a bulk quantity. Results can vary depending on the color of the tie and the stain.)
To clean a polyester tie, start with a spot treatment if needed. Then, machine wash separate in cold water on a gentle, delicate or handwash cycle. You can use a small amount of mild laundry detergent, but don't use bleach or fabric softener. Also, if your washing machine has an agitator, put the ties into a zippered mesh laundry bag. (Some of our customers have alternatively used pillowcases.) This keeps the tie from wrapping around the agitator and possibly stretching it out. Line dry and then steam or iron on a synthetic setting to remove any wrinkles.
One thing to note is that washing a tie doesn't necessarily mean it will last a lifetime. While washing it can extend its use in the food service industry, eventually those ties will need to be refreshed and replaced.
Black ties are the most common color of tie worn by restaurants. Not only is it traditional, but it's the least likely color to show stains. If you're set against black ties for your restaurant, consider other dark shades like navy blue, burgundy, hunter green or gray. Darker colors will conceal those spills longer.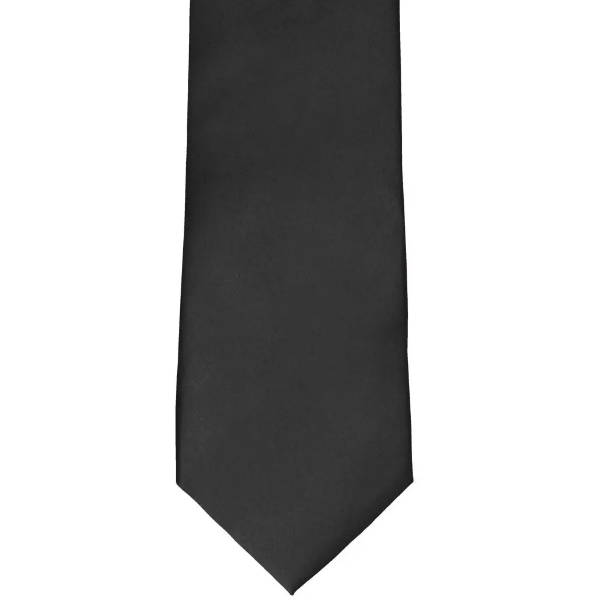 It's no wonder that black ties are the most popular for waiters and waitresses. The darker the color, the better it is at hiding stains.
We never recommend silk or other luxury fabrics to restaurants. These ties are expensive, often leave permanent stains and must be replaced more often. In the tie world today, an inexpensive tie doesn't always mean poor quality. Polyester ties have come a long way and they are often indistinguishable from silk. Thus, even high-end restaurants can select more affordable and longer lasting polyester ties for their servers. When those polyester ties do finally show their age—and are permanently stained from last season's menu—it's time to reorder. Luckily, you purchases cheap ties to begin with and already extended their life as long as possible.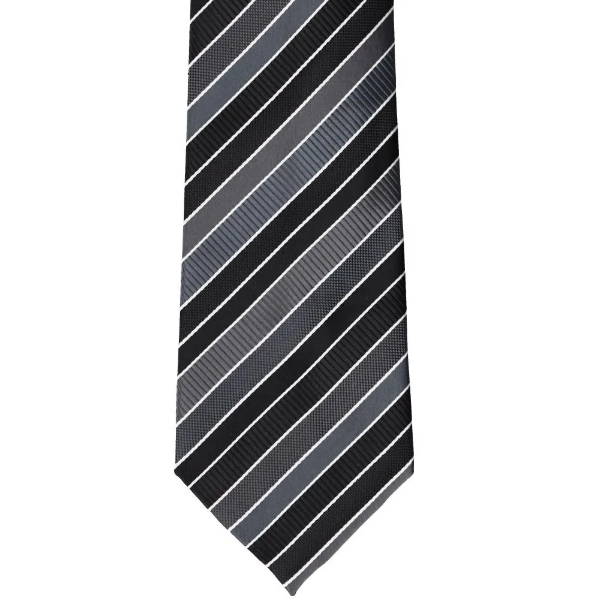 You don't have to spend a lot to get a quality tie for your restaurant. Many polyester ties are durable and affordable options for waitstaff use.
It's important for waiters and waitresses to be clean and presentable on the job. But restaurants are a messy place, especially for neckties. With a few tricks up your sleeve, it's possible to keep those ties looking like new longer. Add a tie bar, choose bow ties or try handwashing your ties.
TieMart sells affordable, quality ties to many industries, including restaurants. They keep large quantities in stock at all times. Styles of their most popular ties, including staff ties, are never discontinued. This allow restaurants to confidently order the same tie year after year, without having to worry about changing waitstaff uniforms.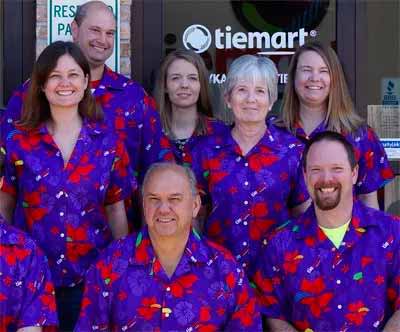 We are a family-run tie company based in Illinois. We've been in the biz since the late 90s, so by now we know a thing or two about men's fashion and accessories. Tiepedia is our lil spot on the web to share that knowledge with you.