Restaurant Tie Styles: What To Wear In The Food Service Industry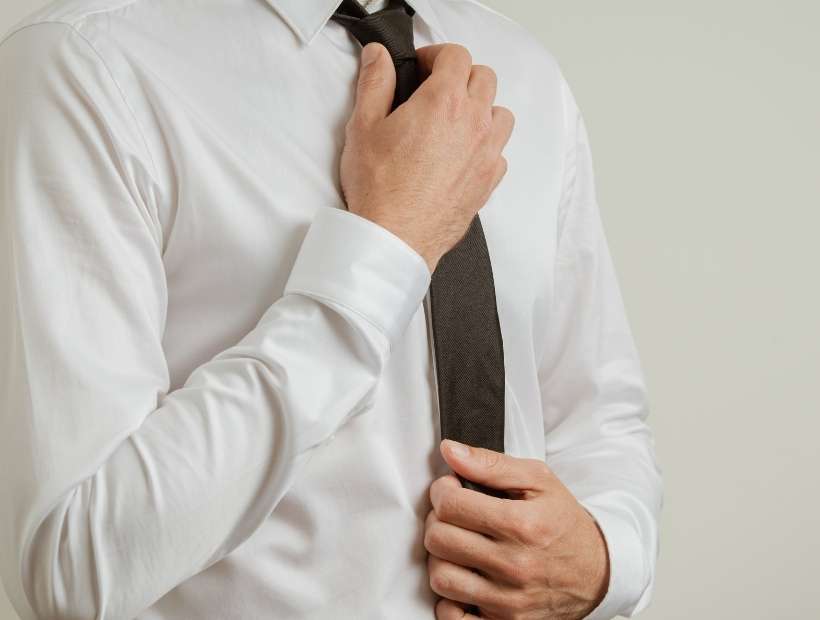 ---
The restaurant industry is a messy place, but your waitstaff can look clean and polished with a cohesive group uniform. From fast food to fine dining, something as simple as a tie can create a recognizable brand image.
Just like a restaurant menu, there are a lot of choices when it comes to ties. We're breaking down the most popular food service styles with this guide to restaurant ties.
A necktie is a necktie, right? Yes and no. While regular ties all must be tied by the wearer, they do come in different lengths and widths.
A standard tie today measures between 3.25- to 3.5-inches wide and is roughly 57-inches long. (That length may vary by an inch plus or minus, depending on the manufacturer.) This is the most popular size and style of tie worn by servers, male and female. It's traditional and suits most body types.
Neckties come in longer lengths too, which may better suit big and/or tall servers. An extra long tie is typically 61- to 63-inches (or longer). The width could be any size; extra long ties do come in regular and skinny widths. While restaurants typically don't purchase all of their neckties in an extra long length, they may purchase a few for those waiters who are over 6-feet tall or more full figured.
Skinny ties are worn in the restaurant industry, but usually by more trendy and modern venues. Skinny doesn't necessarily mean the pencil-thin width of the 1980s either. Skinny ties come in a few different widths. The skinniest width of tie usually seen today is 2-inches wide. This is trendy and cool. Ties 2.5- to 2.75-inches wide are often called slim ties. This is a not-too-wide, not-too-skinny size, and really popular among younger generations. A narrow 3-inch tie isn't too much skinnier than today's standard ties, but that extra quarter inch off does give a more modern feel.
While most restaurants choose standard length and width ties, more sizes are available. Many modern restaurants are opting for trendier skinny ties.
The bow tie serves two purposes in the restaurant industry: Formality and functionality. Because it is the most formal tie option, it's a staple of fine-dining and upscale restaurants. However, it also solves one complaint heard from servers: Their ties can get in the way. (By the way, we offer some solutions to keep those ties clear of the table in another blog post.) Luckily, bow ties stay close to the neck, eliminating the problem of it being in the way.
Bow ties come in a three different styles: Self-tie, clip-on and band collar. Almost all restaurants purchase band collar bow ties for their waiters and waitresses. The self-tie bow tie must be tied by the wearer. Tying a bow tie is different than tying a necktie and, frankly, not a lot of people know how to tie one.
Pre-tied bow ties eliminate the tying problem and give a more consistent look among a group. Even though clip-on bow ties are pre-tied, most restaurants don't select this style. While they do stay securely in place when worn properly, there is a very small learning curve when it comes to putting one on. A pre-tied band collar bow tie is pretty self explanatory. Although the clip-on bow tie is just as secure as a band collar, the added collar around the neck provides a little extra security (even if it's only psychological) that it is going to stay in place through an entire shift.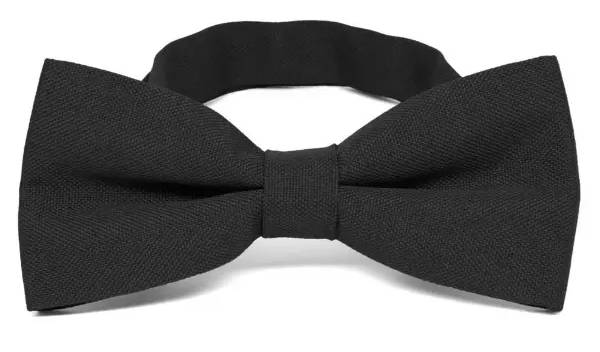 Band collar bow ties are the most popular bow tie style worn by servers. They are pre-tied, easy to put on, look great and stay securely in place throughout an entire shift.
If appearance is important, consider a pre-tied necktie for restaurant use. Pre-tied ties are exactly what they sound like: The knot is already tied, so everyone's tie looks identical. There are a few different styles of pre-tied ties, but the most popular for restaurants are clip-on ties and zipper ties.
Clip-on ties have gotten a bad rap over the years. While a clunky knot once made it obvious that a tie was pre-tied, today knots look just like they were tied by the wearer. The benefit of clip-ons is that they are really easy to use. Pull open the clip on the back of the knot to extend it, place it behind the top button on the shirt collar and gently push down to close it. These ties are fast and easy for servers to put on and take off, so they are a great option if the servers are keeping their ties at work.
When worn, zipper ties look practically identical to a clip-on tie. They still have a pre-tied knot, but are a bit more secure with a loop that goes around the neck. Most people have never seen a zipper tie, so there is a very small learning curve to wearing it. Here's the secret. There's a zipper in the tie tail that allows the collar to expand and fit over the head. When a zipper tie arrives, the collar will be too small to fit. Gently give it a tug and the neck band will expand. Put it over the head and pull down on the tie tail to tighten. Voilà!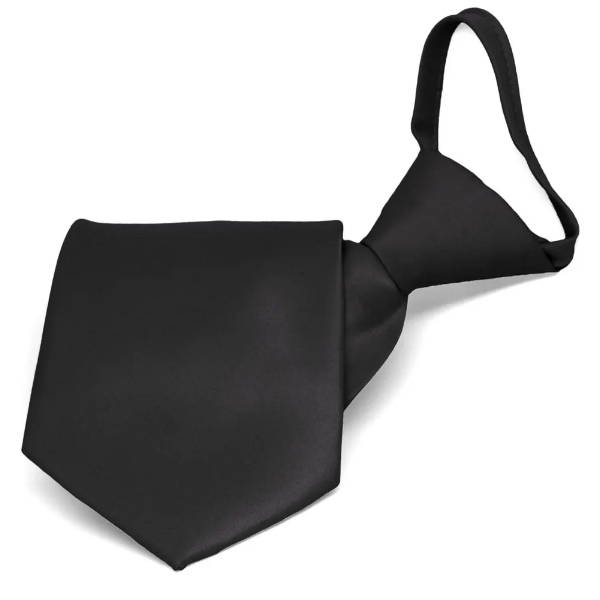 If a consistent look is crucial among your waitstaff, consider adding pre-tied ties. Zipper ties, like this one, are easy to put on and each server's tie will look identical, the knot included.
There is no reason why a waitress can't wear the same tie as a waiter. This is usually what's worn in restaurants. However, there are tie options specifically for females, too. Let's take a look.
A floppy bow tie is very similar to a band collar bow tie, but the ends flop down rather than being straight across. Typically, when waitresses or other female restaurant employees wear floppy bow ties, the males will be wearing a matching standard tie. Floppy bow ties come in a range of the same colors and patterns that neckties do, so matching ties usually isn't too difficult to find.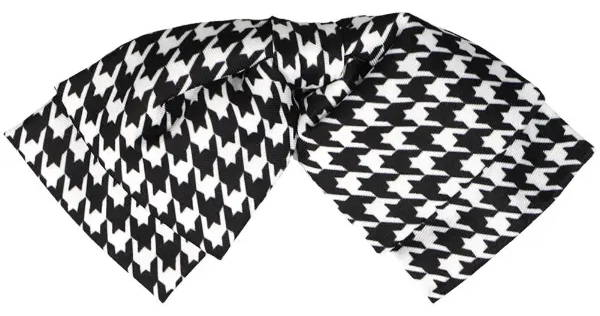 At most restaurants, waiters and waitresses wear the same tie. But there are ties specifically made for women, including the floppy bow tie shown here.
The crossover tie is often part of school uniforms, but we see it in the hospitality industry as well. It's easy to wear: Adjust the neck size to the collar, cross the ends and snap closed. When a waitress wears a crossover tie, the waiter is usually wearing a necktie or bow tie. Because crossover ties are often worn in uniform scenarios, the color selection is more limited than floppy bow ties: Traditional solid colors like black, navy, maroon, red, etc. as well as some typical school patterns like collegiate stripes and plaids can be found.
Most restaurants select solid color ties for their uniforms. Traditional restaurant colors like black, red and navy blue are readily available. For restaurants matching their brand color, it's fairly easy to find a matching solid tie (even if that company color is hot lime green).
Don't overlook a pattern tie though. Pattern ties can really set a restaurant apart even if the pattern is simple shades of black and gray. That combo isn't too far from a solid black. Some restaurants select bolder patterns, like a trendy floral pattern, which leaves a lasting impression on their clientele. (Don't be surprised to hear people around town refer to your restaurant as "the one with the floral ties.")
An important part of selecting a pattern waitstaff tie is to make sure the pattern isn't being discontinued. Black ties will always be available, but a trendy pattern may be replaced as styles change. If the pattern will be discontinued, you could order enough to last until you plan to change your restaurant uniforms (if that quantity is available). This could be a significant investment in uniform accessories though. Instead, verify with the supplier that the pattern is a permanent part of their inventory and is expected to be available for the foreseeable future.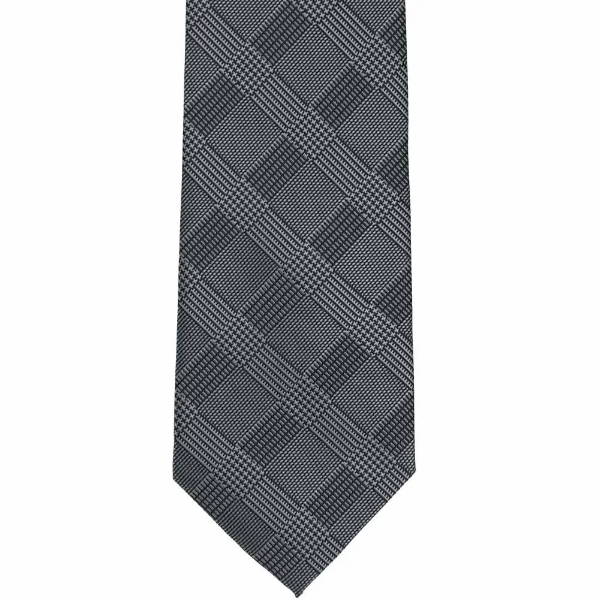 Solid ties are the easiest restaurant tie option. But a pattern can look great and really add to the restaurant's overall ambiance.
It's not just the food that makes a restaurant great. A clean and polished waitstaff can make a lasting impression too, and for many restaurants that includes adding a tie to the uniform. While black neckties and black bow ties are the most popular restaurant ties, those aren't the only choices. For some restaurants, pre-tied ties or different ties for the waiters and waitresses might be a better choice. For others, a bright solid color tie or trendy pattern is a better reflection of the restaurant's style and ambiance. Whatever style of tie you choose for your restaurant, make sure it will still be available for replacement orders.
TieMart sells affordable, quality ties to many industries, including restaurants. They keep large quantities in stock at all times. Styles of their most popular ties, including staff ties, are never discontinued. This allow restaurants to confidently order the same tie year after year, without having to worry about changing waitstaff uniforms.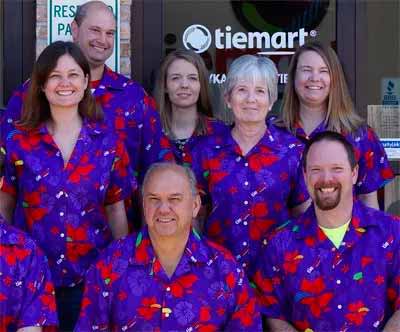 We are a family-run tie company based in Illinois. We've been in the biz since the late 90s, so by now we know a thing or two about men's fashion and accessories. Tiepedia is our lil spot on the web to share that knowledge with you.