How To Create A Trendy Restaurant Uniform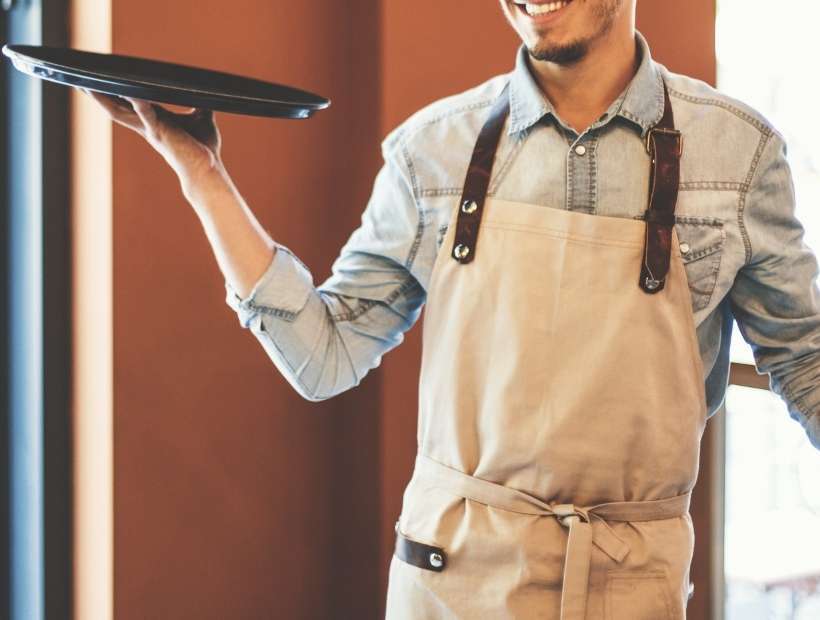 ---
The black tie, white dress shirt and black pants combo is the go-to restaurant uniform. Although it's classic, this traditional attire might not suit the modern atmosphere of a trendier restaurant. Let's take a look at how to update the traditional restaurant uniform and create something trendy but still presentable.
The easiest way to make a restaurant uniform trendy is to select a necktie in a skinnier width. Today's standard tie measures between 3.25- and 3.5-inches wide, roughly. This size is very traditional and probably doesn't suit the atmosphere of a modern restaurant. However, the skinnier the tie the trendier it usually is.
Take that classic restaurant uniform discussed above. Black tie, white shirt and black pants. By switching the black tie to a skinnier width (2- to 2.75- or 3-inches wide), the uniform is trendy and familiar. This uniform will work in an upscale trendy restaurant as well as something more casual.
Skinny ties come in different widths but, again, the skinnier the tie is the trendier it is. So a 2-inch wide tie will be the trendiest option in ties, while 2.5-inches to 3-inches is more modern and mainstream.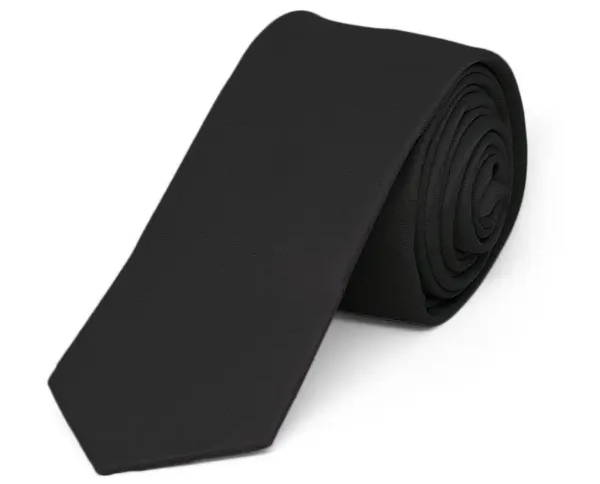 A rule of thumb is that the skinnier the tie, the trendier it is. Thus, select waitstaff ties in 2- to 3-inch widths.
Your traditional restaurant is likely choosing regular clothing cuts for its uniforms. Nothing too loose or too tight. Dare we say generic. Trendier eateries typically opt for more stylish trims. Today, that means slim fit shirts and skinny or tapered pants, even on the guys. Vests, if worn, are usually a tighter, more fitted look as well.
Your typical restaurant sticks to solid color uniforms, black and white being the most obvious. A subtle pattern can instantly make a uniform contemporary. This could be the pattern of the dress shirt. Plaid and gingham shirts are becoming a favorite among many hip establishments, but a floral button down is an option, too. Stripes are another popular pattern we're seeing at restaurants today, both on aprons and shirts. (Those striped shirts typically are a more casual, collarless style worn without the need for a tie.)
Another obvious place to add a pattern is the waitstaff tie. Florals are very popular right now and might be the right vibe for your restaurant. Stripes, dots, geometrics. There are a lot of skinny tie patterns available, so take a look around.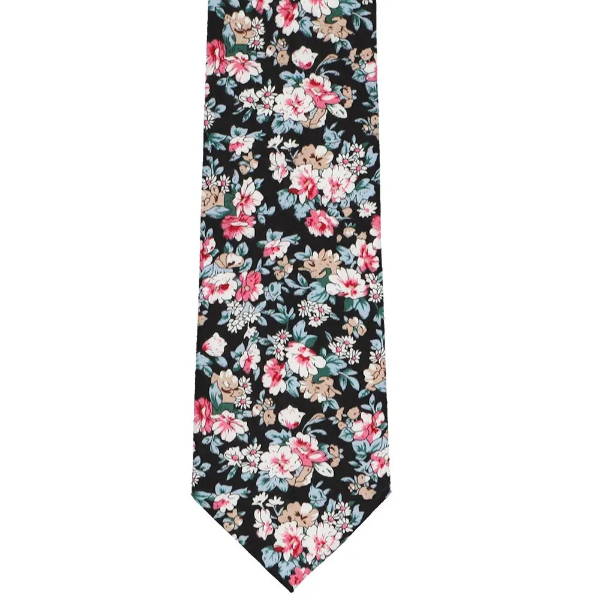 From shirts to ties, adding a pattern to a server's uniform is a great way to create a hip and trendy atmosphere at a restaurant.
We've talked about two colors: Black and white. While a skinny tie and updated cut can take black and white modern, today's trendier restaurants are mixing different hues into their waiter and waitress uniforms. Gray is a popular choice, along with tan, saddle brown, dark blues and off whites. Don't be afraid of something brighter if it adds to your restaurant's ambiance.
Trendier restaurants often add more color to their waitstaff uniforms. Dark blues, like this tie, are a popular choice, but don't be afraid to add something bright if it suits your restaurant's vibes.
Mixing and matching fabrics and materials can definitely make a restaurant uniform trendier. Leather straps on an apron. Or a twill apron with large metal grommets. A denim button down shirt. Perhaps a flannel shirt if the climate allows it. Think outside of the traditional uniform fabrics and it's easy to make a restaurant uniform modern and stylish.
At a fine dining restaurant, you're going to find the waiters and waitresses with their sleeves down, shirt collars buttoned and tie knots perfectly in place. The look is conservative and typical, almost blending into the atmosphere. There's nothing wrong with that, but it's not the style of a trendier restaurant. Something simple like rolled sleeves, a loose tie knot or undone top button can add flair to the waitstaff.
Many servers like adding a tie bar to their necktie, since it helps keep their tie close to their body and away from those dinner plates. Tie bars come in different widths too, so make sure to select a size that suits a skinny tie. (The tie bar needs to be skinnier than the width of the tie.) Skinny tie bars come in traditional silver and gold as well as colors. Even if your servers are wearing black ties it's possible to add a small touch of color to their outfits.

Tie bars are a must-have for many waiters and waitresses, and they are an easy way to add color to a restaurant uniform. Don't worry, they're available in widths small enough for skinny ties.
There are a lot of elements that make a restaurant trendy, and the waitstaff uniform is a key component. Luckily, there are many ways to update the traditional restaurant uniform, like selecting skinnier ties, adding a pattern to the dress shirt or mixing in non-traditional fabrics such as leather or denim. Couple that with great food and service, and your restaurant will be the go-to eatery in town.
TieMart sells affordable, quality ties to many industries, including restaurants. They keep large quantities in stock at all times. Styles of their most popular ties, including many skinny ties, are never discontinued. This allows restaurants to confidently order the same ties year after year, without having to worry about changing waitstaff uniforms.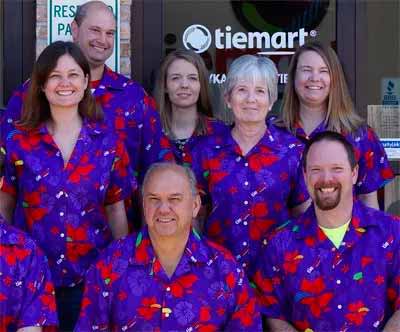 We are a family-run tie company based in Illinois. We've been in the biz since the late 90s, so by now we know a thing or two about men's fashion and accessories. Tiepedia is our lil spot on the web to share that knowledge with you.