How To Dress A Team For Game Day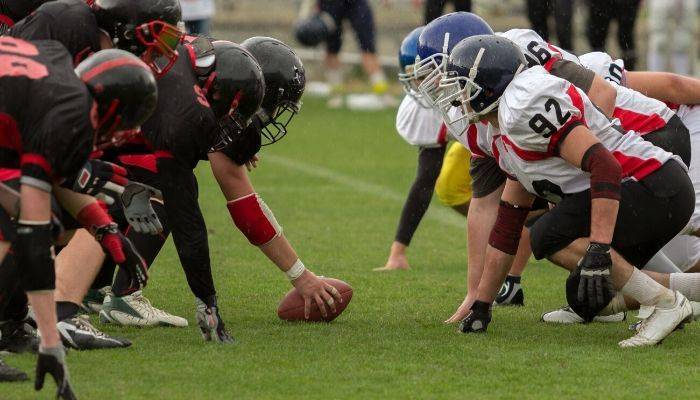 ---
Many schools require their sports teams to dress up the day of or the Friday before game day in an effort to show support as a team. They may choose to match in appearance with team colors or wear polo shirts, khakis, collared shirts, ties or even their warm-up suits during the school day. By doing so, players demonstrate their dedication to their team and familiarize their school with the significance of a game day routine. Athletes often wear a common style of clothing or dress up for varying reasons.
Competitive And Professional

By being reminded of their teammates and their sport throughout the school day, it can help athletes focus their thoughts toward the upcoming game. They can focus on the task at hand, getting them into a competitive mentality so they can zero in on the game and mentally prepare. All athletes experience the hype of preparing for a game and something as simple as dressing up can speak volumes about the mentality, commitment and "oneness" of a team. A desire to play their heart out, getting pumped up and ready to play fuels the fire to win the game and this shines through in the willingness to dress up before each and every game.
Dressing up is also a matter of professionalism—something that's important for amateur athletes too. Dressing up for away games is a good way to represent your school and team in a positive light when traveling to other communities.
NFL players dress up on game day, so why shouldn't high school and college athletes be expected to do the same? Along with professionalism, dressing up as unit shows a team promoting their own game and it signifies an opportunity to compete, to showcase practice and to take home a victory.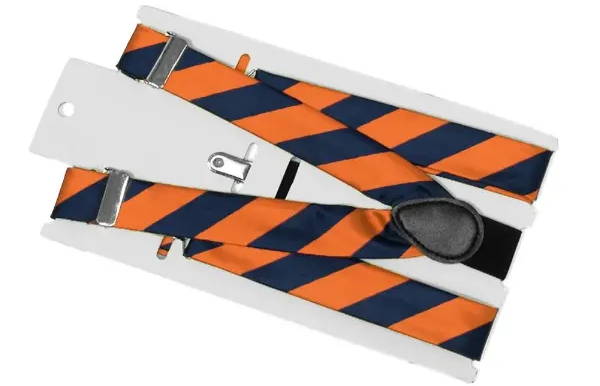 Navy Blue and Orange Striped Suspenders
School Spirit And Recognition

Although others around campus may not understand why they spot students who look as though they are prepared for work or on their way to church, the attire allows the players to explain their sport and their pride for their team to others.
Wearing similar clothing can invoke a feeling of pride for their sport to know that they're representing while they play and it can raise awareness for the team and even improve school spirit. Students become more aware of game days and interested in the school's sport when they see an abundance of ties worn around the halls. They raise eyebrows in curiosity about the meaning behind the attire and once the players have promoted their team, the students begin to get pumped up. It also provides a constant reminder throughout the day for the players of the game ahead and helps pump them up as well.
Kelly Green and Navy Blue Striped Tie
When all the members of a sports team dress up, it creates a real sense of unity and oneness for a team, showing that each player is in this together by sacrificing the comfort of jeans and a sweatshirt for the team. Although it may not be the most convenient or enjoyable for the players, dressing up can help signify that that day is something special and important.
Dressing up is important for team morale, bringing camaraderie and team cohesion.
The bond between team members is an invisible one, but with the entire team wearing similar clothing, the bond becomes concrete, allowing others to see that they are unified by more than just the sport they play. The bond that is forged by competing and sweating together as a team in their sport is more than just a piece of clothing, a varsity jacket or even a trophy. It shows the rest of the school that they are unified, which can strengthen their resolve, the connection they share and demonstrates how game day attire can help enhance energy for a game.
TieMart carries a wide variety of school uniform ties to suit students of all ages and sizes, including standard ties, pre-tied ties, crossover ties and more. Match your school colors with TieMart's vast collection of solid colors ties, striped ties and plaid ties. These uniform ties are durable, which is an important factor when choosing neckwear for kids and teens. Large quantities are kept in stock at TieMart's Midwest location and additional discounts are available on bulk orders. Custom school ties are available, too.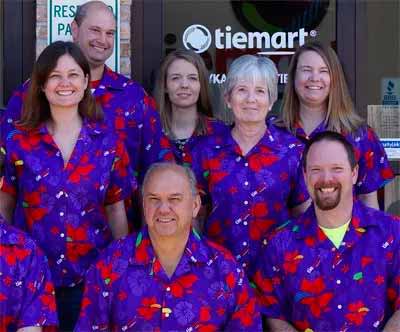 We are a family-run tie company based in Illinois. We've been in the biz since the late 90s, so by now we know a thing or two about men's fashion and accessories. Tiepedia is our lil spot on the web to share that knowledge with you.