11 Ways To Show School Spirit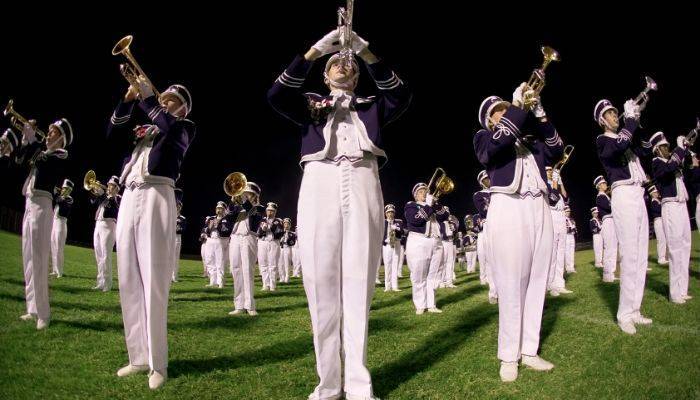 ---
We've got spirit, yes we do! We've got spirit, how 'bout you?!?! Be it high school or college, school spirit is a fun way to show off school pride around town or get fellow classmates pumped for game day. It doesn't have to be difficult or expensive—in fact, here are 11 cheap (yet fun!) ways to show school spirit.
Make A Game Day Banner Or Poster

Gather your poster board, craft supplies and a group of friends and you're on your way. Cheer on your team or favorite player, or poke fun at the opposing team. Either way signs should be enjoyable for everyone, so just remember keep it clean and fun!
Painting your face in school colors is a classic way to show some school spirit, especially on game days. To avoid staining your skin blue for a week, be sure to use non-toxic, washable facepaint. It's usually available from your local craft or party store. Around Halloween, it'll be in the costume aisle of your corner convenience store.
Make A Spirit Stick Noisemaker, Bracelet Or Keychain

Feeling crafty? Why not craft some school spirit? From noise making spirit sticks for game day to wearable crafts like necklaces, bracelets or keychains, the options are endless. Make them for yourself and your friends!
This is a great idea for showing school pride on an everyday basis, not just for game days. You don't have to spend tons of money on buying official school spirit wear. In fact, wearing school colors can be quite affordable. You probably already have items with your school colors in your wardrobe. Don't be afraid to mix and match. And if you don't have anything with your school's colors, we have you covered. Check out our budget-friendly two-color striped ties. There are hundreds of color combos available in neckties, and many are available in matching bow ties, socks, suspenders and pocket squares, too.
Attend all the games for your school's teams, not just the big homecoming game or the cross-town rivalry games. If you already attend all the games for one sport (say football) branch out and attend games for another sport. Baseball, basketball, soccer, volleyball, swimming, track, tennis, water polo, wrestling. There are tons of opportunities to cheer on your school's teams all year long!
Represent Your School In A Parade

Everyone loves parades. If your town celebrates holidays with parades then you may already know how many spectators are drawn to these events. If you're in high school, it's likely the school band is already in the town's parade. But how else can your school (high school or college) be involved? Individual sports teams, individual clubs, even an alumni association to rouse up past graduates in the crowd. With approval from your school, find out who is in charge of the parade and get planning before the next parade.
Volunteer to run the school bake sale, head the homecoming committee or be a freshman ambassador. Not only does this look good on college or job applications, but it's a way to be directly involved and spread a positive attitude about your school.
Set Your School Fight Song As Your Ringtone

Download an MP3 of your school's fight song and set as your ringtone. Simple!
#SchoolName. #SchoolColors. #SchoolMascot. Come up with a hashtag for you and your friends at school and see if you can get it to spread.
From big to small, elaborate to simple, there's something you are sure to like. If not, check your area for custom-made stickers and make something you love! Just make sure you don't obstruct your view. You can't make it to the game if you can't see!!
School-Spirit Themed Parties

Every party is better with a theme, so why not have a school-spirit themed party?! Invite all of your classmates and friends to come celebrate while showing off their school spirit.
TieMart carries a wide variety of school uniform ties to suit students of all ages and sizes, including standard ties, pre-tied ties, crossover ties and more. Match your school colors with TieMart's vast collection of solid colors ties, striped ties and plaid ties. These uniform ties are durable, which is an important factor when choosing neckwear for kids and teens. Large quantities are kept in stock at TieMart's Midwest location and additional discounts are available on bulk orders. Custom school ties are available, too.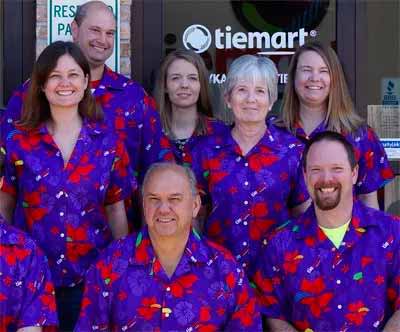 We are a family-run tie company based in Illinois. We've been in the biz since the late 90s, so by now we know a thing or two about men's fashion and accessories. Tiepedia is our lil spot on the web to share that knowledge with you.