How To Dress For Prom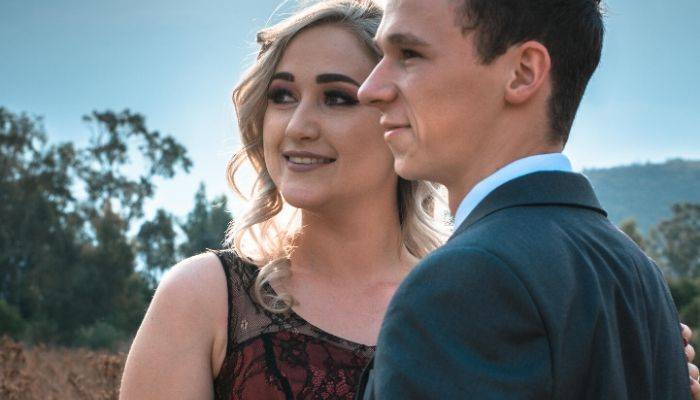 ---
Prom has certainly become an American rite of passage. It's been immortalized as the climatic setting for countless teen movies and to many teenagers it's now an integral part of the high school experience. Prom night should be fun, maybe romantic depending on who you're taking, but most of all, memorable.
For men, part of making magic happen is getting dressed to the nines. That means a tuxedo, and while most high school men don't have much experience with formal wear, picking a tux doesn't have to be a daunting challenge if you keep a few pieces of advice in mind.
How Do You Want To Remember Your Prom?

This is a question you need to ask when you're choosing a suit or tux. Are you going for classy and traditional or trying to make a statement ala Harry and Lloyd's bright orange and baby blue tuxes in Dumb and Dumber.There's technically nothing wrong with either choice, but whether you like it or not, the tux you wear will affect how you remember prom and how people, most importantly your date, remember you.
Ultimately, whether you're going with a date or not should make a big difference. Some girls may love going to prom with the guy who's dressing for laughs- many will not. Even if prom doesn't mean all that much to you, chances are it does meaning something to your date. Ask them their thoughts. Maybe they'll want to make an ironic statement about the over formality of prom with you. Most likely they'll be working hard to look their best and will want you to do the same.
All traditional tuxes may look the same at first glance but there are opportunities to get creative without looking outlandish.
Find Out What Your Date Is Wearing

If you're lucky enough to score a date to prom, what they plan on wearing should also affect the style choices you make. The color of her dress is the most important thing. Common practice is matching the color of your tie, vest and cummerbund (if you choose to wear one) with your date's dress-but don't overdo it. You can't go wrong with a neutral color for your vest and tie either if the matching thing isn't your style. Silver, black, white and gold will all work-provided you choose a traditional black tux.
Get Fitted For Your Tux Early

Most high schoolers, and adult men in general, don't own a tux. That means you'll be renting. For many men, prom is their first real experience dealing with formal wear. If that's the case for you, the tux rental process can seem like a bit of a mystery if you've never done it before. Luckily, if you find a good rental company, they'll have staff that can make the process relatively painless.
Your biggest responsibility is making sure you give yourself enough time to get a tux that fits right and looks good. Getting fitted earlier rather later is your best course of action. You'll need to get fitted early enough for the tux rental establishment to do any alterations that needs to be done to get you the best fitting tux possible. If you have a very specific taste, the company may even need to have the tux you desire brought in from a different location.
Prom season is one of the busiest times of year for tux rentals, so getting fitted and reserving your tux a month or two ahead of time isn't overkill.
Top It All Off With The Right Tie

Traditionally, you wear a bow tie with a tux. Think James Bond. Still, plenty of tux wearers are opting for long ties instead. Ultimately it's a personal style decision.
In terms of design, you'll look best in a solid color tie. Patterned or striped ties don't really work with tuxes and your date probably won't want to be dancing with the goon in the mismatched polka dot bow tie.
When it comes to color you really have two choices. Your necktie is an ideal accessory to match with your date's dress. For example, if she's wearing a pink dress, don a pink necktie. If that's not your style, you can always go with a neutral color like silver, gold, white or black as mentioned above.
Don't Forget the Corsage!

If you don't know what a corsage is, it's the flower thing she wears on her wrist and you're the one responsible for getting it. If your date's prom dress incorporates multiple colors decide which one is most prominent and pick a corsage with a flower in a shade that compliments it.
TieMart is an online retailer of men's neckties, bow ties and other accessories. A wide selection of pattern ties are available at TieMart, including popular paisley ties for weddings, traditional plaid ties for the office and collegiate two-color striped ties for graduation or school uniforms. And, yes, if you really want to put your face on a tie, it's possible with a custom photo tie. TieMart ties are affordable and ship quickly from their Midwest location.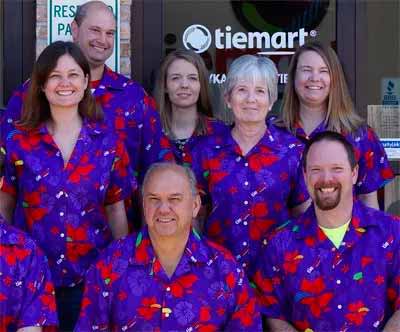 We are a family-run tie company based in Illinois. We've been in the biz since the late 90s, so by now we know a thing or two about men's fashion and accessories. Tiepedia is our lil spot on the web to share that knowledge with you.