A Quick Guide To Tuxedo Shirts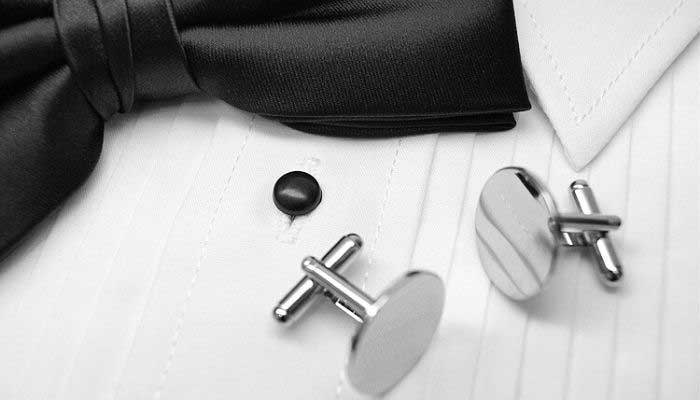 ---
Never Fear The Tuxedo Shirt

Look top notch at your next formal event in a tuxedo shirt. Sporting a tuxedo shirt is easy, once you understand a few key features. Here's what to know before selecting your TieMart tuxedo shirt.
When it comes to tuxedo shirts, small, medium, large and so on actually coincide with your neck size. Size small shirts are for neck sizes roughly 14 to 14 ½ inches around, size medium 15 to 15 ½ inches around and so on. Determining your neck size is easy. Use a cloth tape measure and measure around your neck. Add about ½ inch for comfort. Then choose the size that is closest to your measurement.
S: 14-14 ½ inches
M: 15-15 ½ inches
L: 16-16 ½ inches
XL: 17-17 ½ inches
2XL: 18-18 ½ inches
Arms come in different lengths, you guys. Which is why you'll find tuxedo shirts with different sleeve lengths. The average men's sleeve length is 32 to 33 inches, but don't assume you're average. Take a minute to measure your sleeve length. It's easy, as long as you know what to measure. Using that cloth measuring tape, measure from the middle of the back of your neck, down to the front of the shoulder and then down the front of the arm to the wrist. Choose the sleeve length that is closest to this measurement.
30-31 inches
32-33 inches
34-35 inches
36-37 inches
Just like your everyday dress shirt, tuxedo shirts have different collar options. Though still formal, a standard collar is the most casual of the tuxedo shirt collars. A wing collar is the most formal collar.
Standard Collar

Versatile. Can be worn with any style of necktie or bow tie, including clip-on bow ties.
Wing Collar

Wear with a band collar or a self-tie bow tie
Loop on the back of the collar keeps bow tie in place. Simply pull the bow tie collar through the loop before tying or securing.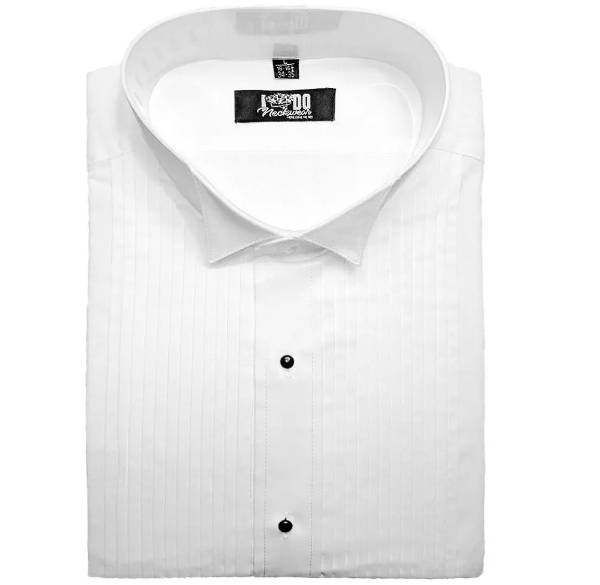 Men's Pleated Wing Collar Tuxedo Shirt
Since tuxedo shirts are formal, they are usually worn with cufflinks. Pay attention to the shirt cuffs. The cuffs determine whether cufflinks can or must be worn.
Convertible cuffs
Can be secured with cufflinks (not included) or shirt buttons
The most formal tuxedo shirts are worn with four or five tuxedo studs. These are small, decorative alternatives to shirt buttons. (Think of it as cufflinks for the front of your shirt.) Tuxedo studs are removable so you can change up the style or use the standard shirt buttons instead.
Includes 4 removable tuxedo studs
Remove and replace with your own tuxedo studs or use shirt buttons
Some tuxedo shirts have a bib. It's an extra panel of fabric that runs up the front, mid-section of the shirt, doubling the fabric. Most often it's pleated.
Pleated shirts feature a bib
Pleats run vertical and measure ¼-inch wide
Men's Pleated Tuxedo Shirt
TieMart is an online retailer of men's neckties, bow ties, pocket squares, socks and other clothing pieces. With an extensive range of products, TieMart stays on top of the latest fashion trends in men's clothing. Shop TieMart for everyday basics and bold trends in men's accessories.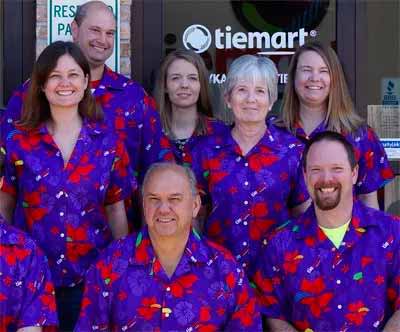 We are a family-run tie company based in Illinois. We've been in the biz since the late 90s, so by now we know a thing or two about men's fashion and accessories. Tiepedia is our lil spot on the web to share that knowledge with you.