How To Choose Wedding Ties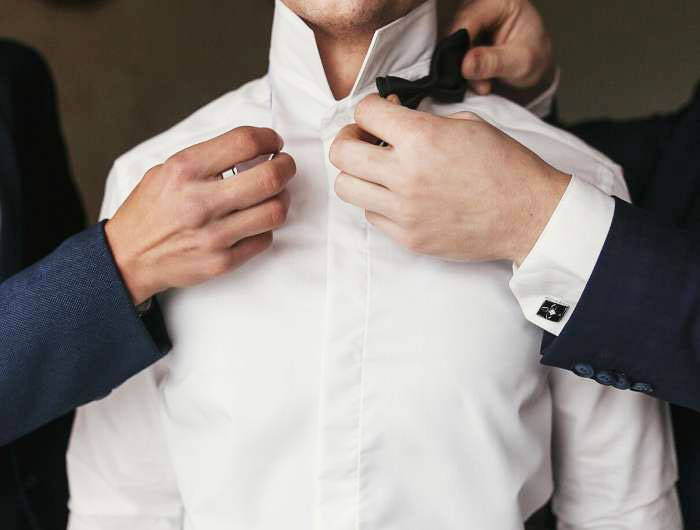 ---
Congrats, your wedding planning is underway! Once you have the dress, rings and venue, it's time to start thinking about the guys. You might already have an idea of their main attire (suit versus tuxedo versus a vest, etc.), but what about those wedding day accessories? Here are some quick tips for choosing wedding ties—even if you don't know a thing about neckwear.
Think about your wedding planning thus far. Are you going with a traditional ceremony and reception or doing things a bit different to reflect your personal styles? You can think about your ties the same way.
For those timeless weddings, stick to traditional ties. You're going to want groomsmen ties that are at least 3-inches wide. Today's standard men's ties are 3.25- to 3.5-inches wide. This is about the same size tie your father wore back in his day, and his dad, too. The bow tie is another great option. A bow tie is a classic look that doesn't fluctuate much with trends.
For those weddings that are breaking from tradition, consider trendier styles to match the event. Slim 2.5-inch ties are a popular choice in groomsmen attire right now. Go even trendier with skinny 2-inch ties.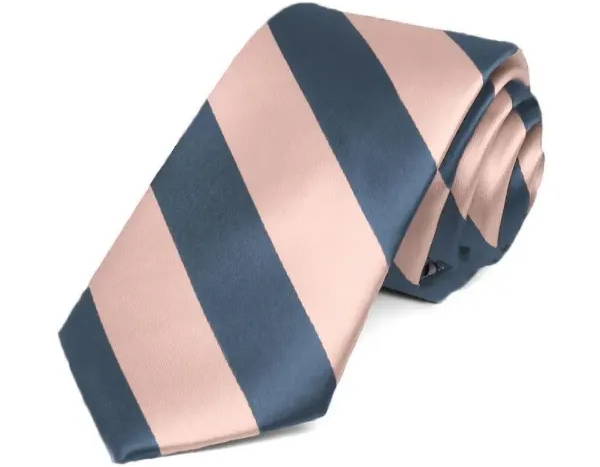 Dusty Blue and Petal Striped Slim Tie
The formality of wedding ties needed really depends on the individual wedding. Solid black neckties and bow ties are the most formal ties, followed by solid white or ivory ties. For formal weddings that aren't quite black tie, choose those 3.25- to 3.5-inch standard ties.
Typically, the skinnier the necktie the less formal the look. Skinny and slim ties are a bit less formal than traditional ties, especially in matte finishes or patterns.
You might think formal when it comes to bow ties, but that's not always the case. Self-tie bow ties in particular come in a lot of different patterns and fabrics. Pair a cotton, linen or wool bow tie with suspenders or a vest for a more casual look.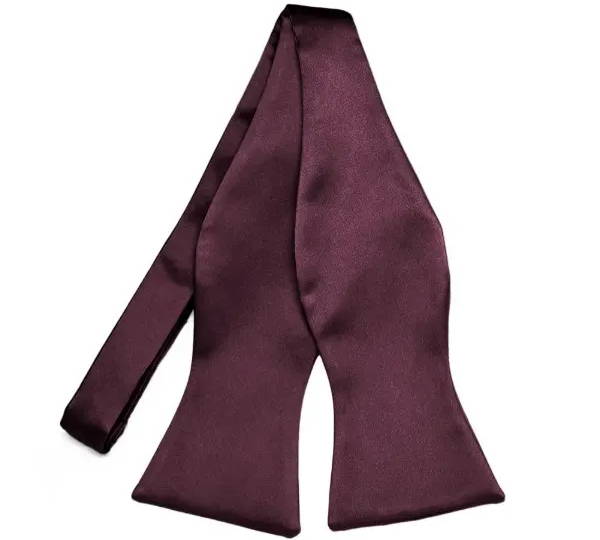 Wine Premium Self-Tie Bow Tie
Unless you're having a black tie wedding (which mandate black bow ties), you have the option of neckties or bow ties for the guys. This is really a personal preference and many couples choose what the groom is most comfortable wearing.
A note on bow ties. Bow ties are available in pre-tied or self-tie styles. Pre-tied bow ties (band collar or clip-on) are easy to use and provide a uniform look among a group. Self-tie bow ties must be tied by the wearer, and the beauty of a self-tie bow tie is that every bow might be tied just slightly different. Although most men know how to tie a necktie, the same can't be said for bow ties. Make sure you have at least one bow tying expert on hand for your wedding day before going this route.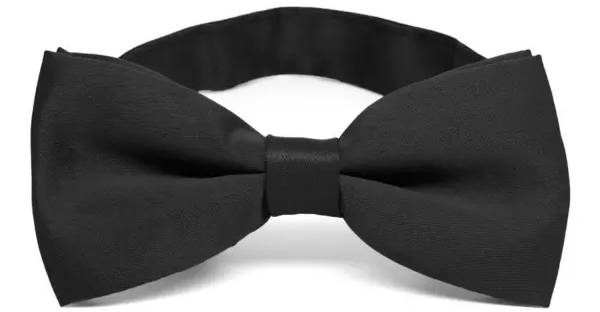 Black Band Collar Bow Tie
Solid color ties are the most popular choice for weddings. They're the easiest to match to bridesmaid dresses and/or wedding colors.
Striped and paisley ties are a popular choice for weddings since they can be fairly easy to match, too. Look for stripes or paisley patterns that contain no more than three colors.
The key to a detailed wedding tie is finding a pattern that contains at least one color to match or coordinate with your wedding colors. Take floral ties, for example. Floral ties are really popular for weddings right now, but these patterns can be pretty busy and full of colors. If your wedding color is dusty blue, look for a floral tie that has contains dusty blue somewhere in the pattern. Don't worry if the pattern contains colors that aren't part of your color scheme. This maywood floral tie contains dusty blue flowers, but it's mixed with black, burnt orange, plum and pink. When surrounded by dusty blue bridesmaid dresses and other wedding decor, those dusty blue flowers are what will stand out on the tie. (Most guests won't even notice the colors that aren't part of your wedding scheme.)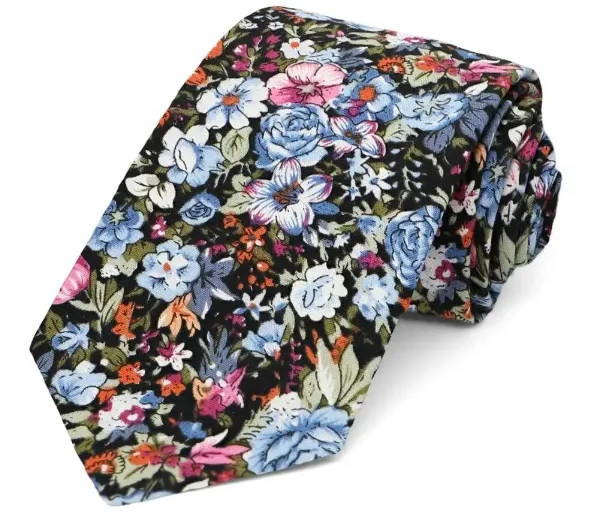 Maywood Floral Cotton Narrow Necktie
The easiest way to choose wedding ties is to select ties that match the bridesmaid dresses. From the groom to the groomsmen, all the guys wear the same tie. Prefer to mix things up? Consider putting the groom in a different color tie than the groomsmen. We've seen the groom wear a tie in the main wedding color while the groomsmen wear an accent color. Or, for a more traditional look, the groom can wear a neutral color tie (black, white or ivory) while the groomsmen wear a tie that matches the wedding color. For an ombre look, put everyone in a different color tie. (Usually the bridesmaids are all wearing different color dresses, too.)
But we're not just talking about colors here. Many couples choose to offset the groom in a different style of tie than the groomsmen. Maybe the groom wears a bow tie while the groomsmen wear neckties. Or the groom wears a more traditional width of tie (3.25-inches+) while the groomsmen wear a trendier cut (2- to 3-inches).
Dusty Lilac Premium Solid Color Necktie
You're now on your way to being a wedding tie expert. Ready to shop? Browse TieMart's selection of popular wedding ties. Still have questions? Check out these great wedding articles:
TieMart offers budget-friendly wedding ties in a huge range of colors and patterns. You'll find accessories for your entire wedding party, from the groom and groomsmen to the ring bearer and father of the bride. Match your wedding colors by requesting free fabric color swatches today.